Or pancakes. Or both. Yeah, I went with both, but that was my big decision for one Christmas. That, and whether I was going to be playing left or right defense at my hockey tournament the next day. Those were the days; where breakfast for dinner was the biggest decision on my plate (pun intended).
As the holiday season approaches, I can't help but think back to all the holiday tournaments we played in as kids. Every single Thanksgiving and Christmas our celebrations would be cut short as my brother and I would pack up our hockey bags into our parents' car and travel to some tournament that year.
Every. Single. Year.
It was like clockwork. But we certainly weren't alone. It's like that for every hockey family and there's a real sense of pride we all seem to take in that. Hockey families find a familiar bond over missed holidays and family gatherings. Everyone understands the sacrifices and unites at the freezing cold rinks. We all become a second family.
Growing up playing hockey in Raleigh, North Carolina, we were at a slight disadvantage as far as having many close options for competition. Raleigh isn't exactly a hockey hotbed – not yet anyways. We had to travel far and wide to compete with other teams. One year, my dad made the seven-hour drive to Washington, D.C. three weeks in a row because my brothers team and my team were never there the same weekend. Of course we weren't. That would make life as a hockey family too easy. So you can imagine the relief when we both went off to play at prep school and my parents, and their car, both got a little bit of a break. But things wouldn't stay simple for too long…
One holiday tournament in particular stands out.
A Christmas tournament in Hershey, PA when I was ten years old was set to begin on December 26th. On Christmas morning we opened presents early, made breakfast (I went with eggs this time) and began the eight-hour drive from Raleigh to Hershey. A heavy snow-storm was in full force as we made our way up north. By the time we finally made it to the hotel it was late, dark, and really snowy. We were all understandably tired and hungry. At that point, we planned on just eating room service at the hotel (because nothing says Christmas dinner quite like room service). But again, that would just be too simple for the hockey Gods, and come to find out, the hotel staff all had the night off. No room service for us.
We headed back in the car to take a quick drive to see what was open. Being Christmas Day, nothing was – except, of course, the Waffle House down the road. There was one big sigh of relief in the car when we all saw the big, bright, yellow Waffle House sign.
The thing is, I don't even remember what position I ended up playing that weekend. I don't even remember how our team did in the tournament. No one remembers what times the games were, or who scored. But, it's a story we look back on and realize how special those moments are. More importantly, when we reminisce on these memories, we realize how far we've come.
From a youth tournament in Hershey, to college hockey and beyond, it's hard not to look back and realize what a simple game it was back then.
Which makes me think, whenever hockey gets challenging and complicated, what a simple game it still is. It's a snowy Christmas dinner at the Waffle House that reminds me how it should always be fun. Our families have sacrificed so much over the years just to let us kids go out there, skate around, and try to put a little rubber puck into the other teams' net. Just to drive home and do it all again the next weekend. That's the ultimate gift any hockey parent could ever give their children – the opportunity to just play, no matter how far or how cold the rink was.
And the same goes to all sports parents: no matter what age we are, we will never forget all the sacrifices you made, and continue to make, to allow us to play the game we love. In return, we will always do our best to provide those same opportunities for our kids someday.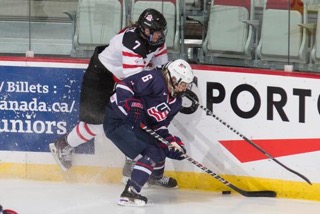 There were a hundred more trips, with a hundred more stories, but there's something about those holiday tournaments that are a little more memorable and every year around this time, and I get a little nostalgic remembering how special they were.
So the moral of the story, if you ever get stuck in a snowstorm on your way to a holiday tournament, just remember two things:
1) Don't sweat the small stuff. What seems like a burden at the time will always turn into a funny story in the years to come. Whether we are 10, 25, or 50 years old, we won't forget the sacrifices, and more importantly, the laughs.
2) You can always count on the Waffle House being open.
Cheers to cold rinks and warm hearts. Happy holidays!