A couple of months ago, my DRIVN co-worker Pat Mullane wrote an inspiring blog post that really hit home for me. (If you haven't read it, I highly recommend it; it's called, "What's the rush?" ) In the post, he uncovered some of what is truly magical about playing college hockey. Unfortunately for him, he played at my cross-town rival Boston College, but I guess I can eventually forgive him for that. Maybe. Currently, I'm a college senior at Harvard. And although we may have sported opposite sweaters, we can definitely relate to the pride that comes with wearing one. Sadly, my days of wearing the Harvard Hockey jersey are dwindling. At most, I have eight games left.
And so, I'm dangerously close to the end of the hardest, most amazing four years of my life. With this inevitable end approaching, I can't help but think about something that my coach, Katey Stone, has said numerous times during my time with the Crimson: "Leave the jersey better than you found it."
As I reflect on my time here, I question, "Have I truly left the jersey better than I found it?" "Will the girls who have the honor of wearing the Harvard jersey after me have a better experience because I wore it?"
I would like to think so.
I certainly hope that during my time here, I've done something that somehow in someway made the program better.
But how do I know if I've accomplished that? Simply, I don't. Not yet anyway. Perhaps that kind of wisdom takes a little more time.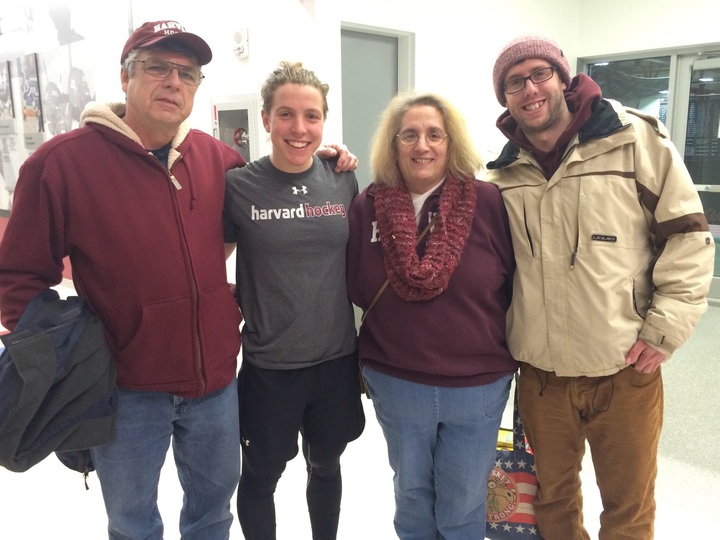 However, in thinking about that question, I've come to realize that even if I have done something to improve the program for players to come, it doesn't nearly compare to all that I've gained in my time at Harvard; getting to wear that jersey, having this amazing experience, learning from those who wore the jersey before me.
I won't attempt to write about all that I've learned, but I will share my greatest takeaway:
Every day, I've been expected to bring my best. Harvard professors expected my best work in the classroom, my coaches expected my best effort on the ice, and my teammates expected me to be the best teammate I could possibly be. Certainly, I didn't live up to those expectations every day (even though I tried), but it's the days that I failed to be my best where I learned the most about myself. So, even though its been hard, and some days I wished people would expect a little less from me, I'm so grateful that I've been held to such high standards for four years.
It has allowed me to become a better version of myself even when I wasn't expecting it.
One of my most memorable letdowns and a big learning moment came in the fall of my junior year. It was one of my first few days back on campus and a bunch of us were hanging out in one of my teammates room, listening to music, and having fun after a long day of class and pre-season training. I was talking with one of my teammates when she asked in a sort of joking way, "Is this going to be the only night I see you away from the rink this year?"
I nervously laughed a bit and responded, "No, what do you mean?"
And she said something I'll never forget. "Well your sophomore year, you were kind of absent. I wasn't sure if you even liked us."
I was shocked. I had no idea that she, or anyone else, felt that way. I loved being around my team. It was the best part of my day every day, so I didn't understand how I could have been giving off that vibe.
That night she opened my eyes and taught me that being a good teammate didn't only happen at the rink.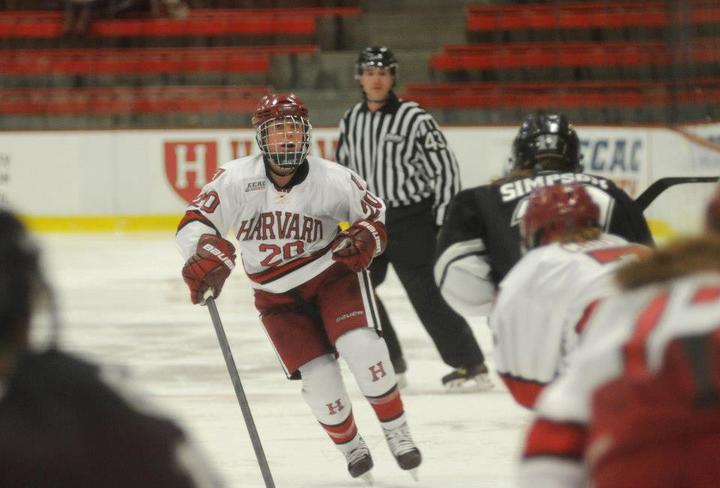 It wasn't just about what happened on the ice and in the gym. My teammates needed to know that I cared about them away from the rink, too. As people and friends, and not just as my teammates. I realized in that moment that I wasn't being the best teammate I could possibly be, and she made me very aware of it. It wasn't easy to hear, but I'm so grateful that she told me. She made me a better person, allowed me get to know my teammates better than I ever thought possible, and helped me to make friendships that I will forever cherish. Essentially, she helped me break the ice (pun intended).
Perhaps this lesson will even help me leave the jersey better than I found it. I still won't know the answer to that for some time, but I would just like to say thank you to all of the Harvard Women's Hockey players that came before me and left the jersey better than you found it. I hope to do the same.