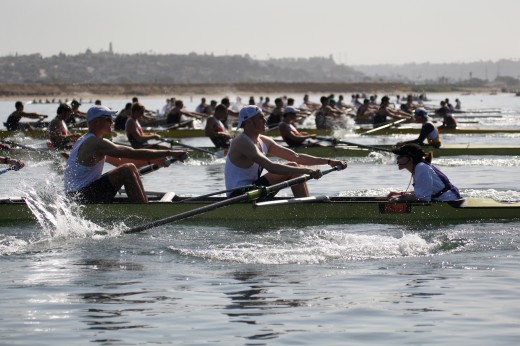 Lasting traditions are what make annual events special. From holidays to parades and marathons to festivals; the anticipation, passion and excitement are at the roots of each. We at DRIVN were fortunate to attend and participate in a certain event just a month after our public launch. That event was the New England annual tradition of the Head Of The Charles Regatta right in the heart of our city.
Fast forward 6 months to present day, we are very excited to participate in another time-honored tradition, this time on a different coast; the San Diego Crew Classic.
The San Diego Crew Classic had its beginning over four decades ago, starting in 1973. Back then, the goal was to invite the top collegiate crews to Mission Bay in order to cement a West Coast regatta. Year after year, this annual event transformed itself into a San Diego tradition, similar to the Bostonian's Head Of The Charles Regatta. To dive into the full history of the San Diego Crew Classic, check out the Crew Classic website.
For us at DRIVN, participating at this event for the first time is very exciting as we travel coast to coast to experience another great regatta. Additionally, the timing of this regatta marks our first 6 months as a publicly-launched company. From the start at the Head Of The Charles to 6 months in at the San Diego Crew Classic, a lot has been accomplished in such a short time. Maybe you can call our participation in these regattas as our own company tradition; an event to mark our maturity as a company.
For those that met us at the Head Of The Charles, I am sure you remember meeting Dan Walsh and others from the team on the banks of the Charles River. This time around in San Diego will be no different as the DRIVN team take to the shores of Mission Bay, connecting with coaches, athletes and rowing enthusiasts. For those attending and familiar with the course, DRIVN will be stationed right near the waterline, south of the Lane Zero beer garden, and just north of all the alumni tents with plenty of DRIVN towels to give out!
Until then, we wait in excitement of our journey to the west coast we wish the best of luck to all the teams on race day!