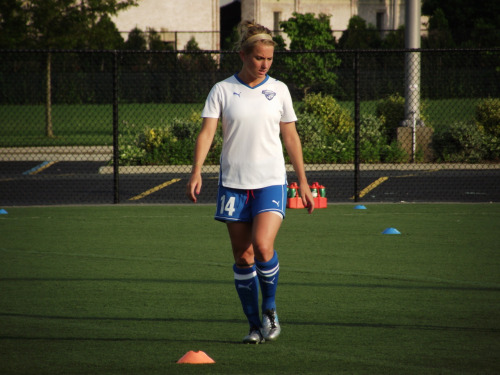 "The vision of a champion is bent over, drenched in sweat, at the point of exhaustion, when nobody else is looking."
Mia Hamm, my childhood idol, said this. She should know. She didn't just say this, she lived it truly. Well, except the part of "nobody looking."
About 13 years ago, I was at the Boston Breakers vs. Washington Freedom game with my Dad and there were about 8,000 soccer fans who had come to watch the incomparable Mia Hamm. When the final whistle blew I pulled my father down to the pitch side to stand in line for her autograph. After about 15 minutes of signing shirts, posters and pictures for fan‐frenzied 12‐year‐old girls, she was right in front of me. I was next!
That is, until someone from the Freedom staff tapped her on the shoulder and said "Last one ‐ time to go." I watched my favorite player of all time hop into a cart and drive away, taking my dashed hopes for an autograph with her. Still enthralled, unable to take my eyes away from my idol, I saw the driver hand her a bag. What did she need a brown paper bag for?
I watched as she leaned over, ripped the bag open, drew it to her lips…. and threw up.
Gross. That was my initial 12‐year‐old girl response. My next thought was "wow." She is the embodiment of "leaving it on the field." What I had witnessed, I came to realize, was not "gross" but the vision of a champion. Bent over at the point of exhaustion. Right in front of my impressionable eyes.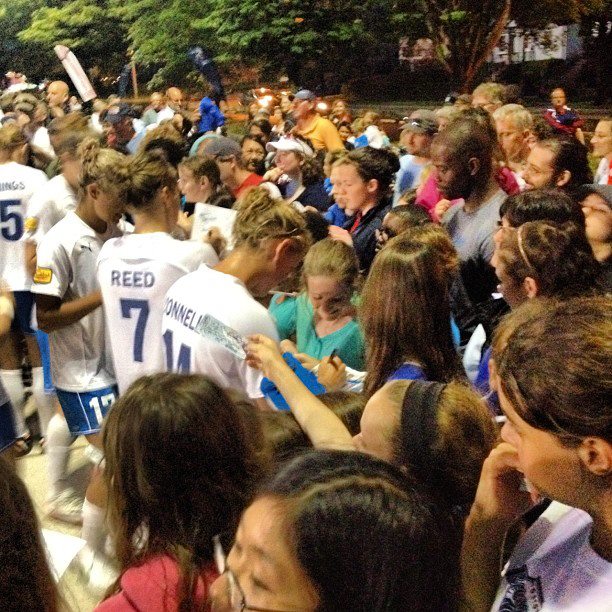 On the way out, after begging my Dad to buy me a t‐shirt three sizes too big because that's all that was left, (and I still own that shirt) I decided two things. One, I wanted to play here on Nickerson Field for Boston University one day. Two, I wanted to play professionally for the Boston Breakers.
I did both things.
The next ten years were dedicated to making those goals possible. It wasn't easy, and I certainly took the road less traveled by (that's a Robert Frost reference for all my New Hampshire peeps), but I did it. This blog isn't an attempt to gain praise or validation. It's more of a conversation with athletes and non‐athletes.
People who work their whole lives to accomplish their goals only to have them stripped away in the blink of an eye.
My Achilles Heel has always been my back. I was a child born to be in constant motion. At four I danced ballet, at five I started competitive gymnastics. By middle and high school, I added track and field. Soccer was my constant beginning with my first rec game at five years old. Little did I know at the time that I had genetic back issues that would haunt me as I pursued the sports that I so loved. A stress fracture in my lower spine put me in a back brace for a few months my junior year of high school, right in the middle of the most crucial college recruitment time for soccer. Great.
Things worked out ok still. I eventually found my way to becoming a Terrier at BU thanks to Coach Feldman who was willing to take a chance on me. She, along with the rest of the staff there, became aware of my back issue and I could never thank them enough for their concern and consideration.
I've tried everything for it. Physical therapy, Active Release Therapy, lifting more, lifting less, wearing my back brace on off days, modifying conditioning drills, etc. etc. I was even part of a four-month acupuncture study at Mass General Hospital. It didn't do a damn thing. I've had more x‐rays and MRIs than most 80 year olds. I've been "retired" since 2013.
Throughout college I had cortisone shot after cortisone shot and was convinced that as long as I didn't feel the pain temporarily, then they were working, and I continued to push myself to my limits. When the Women's Professional Soccer League started up again my senior year at BU, I was determined to make that second part of my dreams a reality. When I was offered a spot on the Breakers, I couldn't say no. Even though my doctor wanted me to.
I have been seeing the same specialist at Brigham and Women's Hospital since I first hurt my spine at 15. I was the youngest (and still am at 25) patient he had. He has repeatedly told me to put my body first. He recommended that didn't I play in college. I ignored his advice because I had worked too hard and was too close to achieving my goals. And I was 17 and too stubborn. Then, after my senior season, he said, again, that it wasn't in my best interest to play professionally after college. I ignored his advice once more. Genetics aren't my friend either; my Dad, my aunt, and two of my cousins have all had major back surgery. For years, I've been warned that I'm next.
If you're an athlete and have ever had an experience with an injury, then you know that the physical hurt is only one very small part of the overall pain that you go through in the process.
The mental/emotional pain of not playing and the void that loss creates in your life can be far more devastating than the injury itself. The thing that hurt me the most, and still does, is saying goodbye to what had been the focus of my life. Every goal I wanted to achieve I did. But that's because my goals were centered around soccer. Sure, I did well in school and have a close group of great friends, but 99% of the time my decisions were determined by how it would affect not just my life, but my life as a soccer player.
I wish I knew my last game was going to be my last game at the time. The Breakers were in Rochester and the final whistle blew after a devastating loss in the semi finals. I played the most minutes of my professional career that night. And although it was a disappointing loss, I was already excited to get back on the field with these teammates the next season hungry for revenge. Had I known that would be the last time I stepped on a soccer field maybe I would have taken a better screen shot in my head of the thousands of fans there to watch. Maybe I would have listened a little harder to the post game speech. Maybe I would have hugged my teammates a little tighter.
Thanks to my Dad, I have scrap books full of newspaper articles, awards and accolades so I won't ever forget those memories or what I was able to achieve. But what about everyone else? People remember the game winning goal in the quarter final game in high school, they remember my first college goal, they remember me signing to play pro, they remember how hard I trained and how much I loved it.
But then they don't.
Then they forget. No one remembers the athlete that hangs up her cleats at 22. The Mia that never was.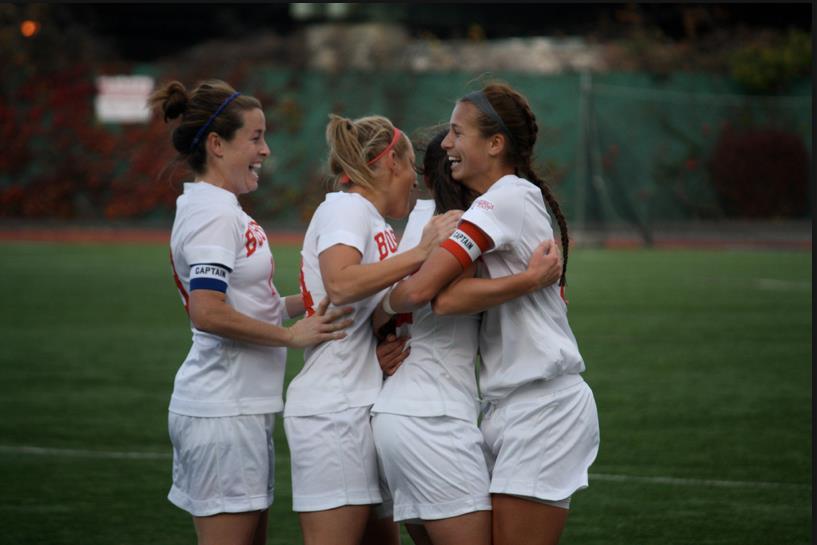 And that's what a lot of athletes can relate to. Whether you have to stop playing after high school, or maybe you commit to play in college and realize it's not what you wanted, or maybe, like me, you can begin to accomplish everything you set out to and and lose it. And then what?
That's the question I asked myself the entire ride home from an MRI a few weeks before I was set for preseason with the Breakers for my second season. Except this time, my doctor did not suggest I stop playing, he demanded it. And that was it. Twenty-two years of chasing a dream gone.
Now What?
In the circle of athletes, we often joke about becoming NARPs (Non Athletic Regular People) after we stop playing. And as lighthearted as it seems, there's a little bit of sadness every time it is uttered. We all understand. We all get it. We all have the same identity crisis and are scared to become "real" people who have to dress up and sit at a desk and can no longer wear our grey college issued sweats out in public.
But the good news, that I have learned after some resistance, is that your athletic career, as pivotal as it is to your life; is not your whole life.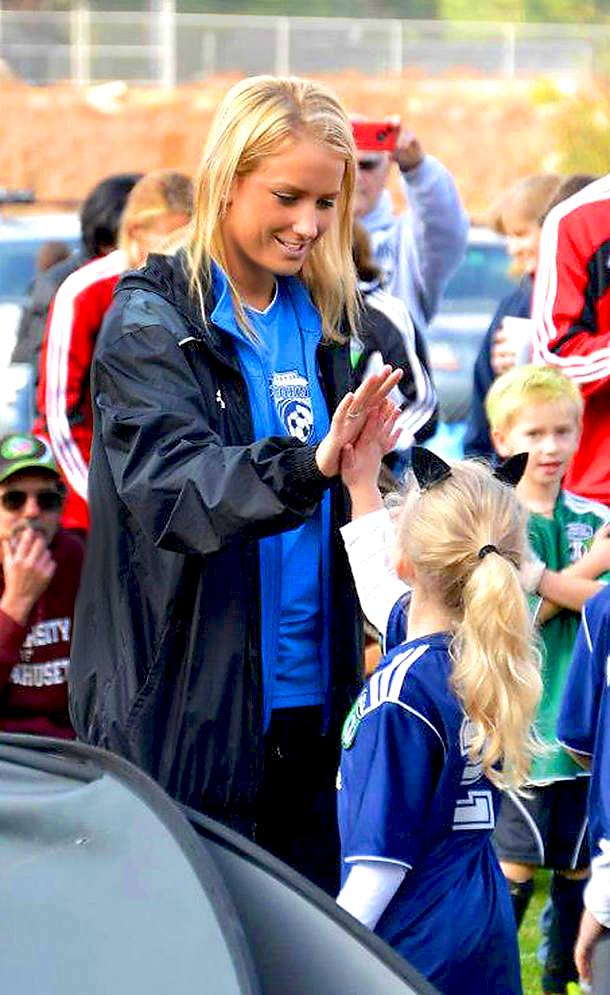 It's taken me a while to get here. I still have dreams that my back will be cured miraculously and I will play again. I still get a lump in my throat every time I drive by Nickerson Field on the Mass Pike. But that's ok. I hope that feeling never goes away. I hope every time I drive by a soccer field the little voice inside my head reminds me how much I loved to play. I hope the happiness I feel when I coach little kids who are amazed I can juggle it more than three times never goes away. And more than anything, I hope the life lessons, the teammates who became family, the memories of long road trips and inside jokes, the passion, the drive and the work ethic I learned to instill in myself never goes away.
Deep in my heart, I'm sure it won't. My 12-year-old self won't let that ever happen.