Long Before Title Nine there was a hero in my house.
My hero is seven years older, fiercely competitive, and hands down the best athlete in the family. Meet my sister Lori. She was also a member of the Big Red Machine. I know what you're thinking: what is the Big Red Machine? Let me try to explain…
Well, in 1971, there were very few athletic options for women, especially at the school she attended. The conservative prep school in rural Connecticut with an enrollment of 250 had recently gone co-ed and fewer than 50 of the total student population were girls! The school went co-ed in 1968 for the first time, and the administration had done its best to come up with appropriate sports opportunities for such a small number of female students.
By 1971, the options had at least expanded from the original tennis, modern dance, and gardening (the latter is a sport?!), to include basketball and crew (clearly a requisite for a New England prep school). However, the school leadership wanted to make field hockey the required girls fall sport, and several female student leaders, including my sister Lori, were adamantly opposed to pinafores and hockey sticks. Instead, they wanted to play soccer.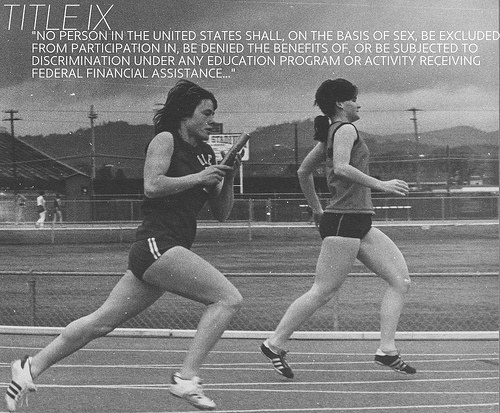 The boy's soccer team at the school was already well established back then and the girls were certain to find a coach that would lead them to the same success. Enter: Hagop Meriian, a huge soccer aficionado of the Armenian descent who taught his players to think, and to never give up. Hagop had even played semi-pro soccer himself, so he was the real deal. Lori, and about five other girls, pressed Hagop to support them in forming a soccer team around the sport he knew and loved. Hagop, never a man to turn down an opportunity to abolish social limitations in the heyday of post 60's social change, taught this group of pioneering women the beauty and skill of the game. Most importantly, he taught them to believe in themselves. It was this enthusiasm for girls' soccer coupled with the incredible espirit de corps and grittiness of the girls that became legendary at Pomfret and on the prep school girls athletic circuit as a whole.
A team needs (at the very core) complementary strengths, chemistry, a common bond and a collective will.
If Hagop was the catalyst, this group of players found collaboration and challenge in one another through the talents each brought to the team.
Susette Milnor, the Headmaster's daughter, had natural athletic ability, older brothers to push her, and a focused competitive drive. Plus, she had grown up around the school so she knew the game well. Allison Bayer was the eventual captain of the first undefeated girl's soccer team in the 1972 season. She may not have been the most talented athlete, but she led by quiet determination and tenacity that kept the more boisterous people on the team (read: Lori) balanced. Others, like Sharon Sullivan on the wing (good speed and a fierce "just try it" look in her eye), and Ginny Sampson, a fullback who gave no ground and dared oncoming dribblers rounded out the perfect avant-garde lineup on the field, and off.
And then there was that game in Worcester in the early days, when Pomfret's team of girls aged 14-17 played a team of 8th and 9th graders and wondered, "Why we are playing against them?"
The answer: "They have Sheila Killeen."
It only took minutes for everyone to know who Sheila was.
She was the finest athlete I've ever seen. She was everything you could hope for in a soccer player: she had four goals that game and the team of 8th and 9th graders beat the high school team. Pomfret lost that battle but won the heart of Sheila and off she went to Pomfret the next year to join them. That sealed it: a great coach, a team of complementary skills and personality, a common purpose, and a few exceptional players. They went on to have two remarkable seasons in their first two years under Merj. With only one loss over two years, they earned the nickname "The Big Red Machine". A proficient scoring and defending machine! Hagop taught them trick plays, including the opening salvo, where the center forward fake passed the ball to the wing, taking all the defenders with the fake, and the rest of the front line pranced down the field and often scored a goal in under a minute.
Throughout my childhood, Lori was a great sister; she used to kick my ass in everything.
And then, taunt me to keep me coming back for more. I got ripping pissed, and it took many years to be able to beat her at anything. We didn't live in a neighborhood with tons of kids around, so she was the closest thing to an every-day after school friend I had. With only Little League as an organized sport in my town back then, there were few opportunities for community team sports. She was my rival in a two team league!
She played many sports well, including soccer, basketball, and crew. But that wasn't all. She was an outstanding actress and singer, performing the lead in "Mame," a perfect vehicle for her perfect pitch and comedic timing, still on exhibit today. She won the highest award for character at the school on graduation day, and was the first girl in the history of Pomfret School to win the Mansfield Cup – given to the student who most demonstrates athletic skill and sports(wo)manship. She was then (and still remains) my hero and a major influence.
In reflecting on this personal history, I realized how important these pioneers of Pomfret School were to the establishment of today's women's club, high school, and college athletics.
A passionate teacher and a great group of girls formed the Big Red Machine at the leading edge of the rapid growth of sports options for girls.
This example and many others like it, paved the way for Shelly Picard the Harvard Women's Hockey Captain and DRIVN intern this year, and Alyssa Gagliardi, the former Cornell Captain, current professional hockey player with the Boston Pride and customer success guru for DRIVN. The Big Red Machine allowed my daughter Katherine to celebrate this goal (pictured above) in the Mass State Championship game at the Boston Garden! While Kat will never play a college sport, her rec, club and high school hockey experiences helped her develop the habits, traits and work ethic that serve her well as an honors student at the UMASS Isenberg School of Business.
With all that has taken place since the early 70's in athletics, perhaps the most important thing is the wonderful opportunity for women to pursue their athletic passions, and to be recognized and supported in developing this critical part of themselves.
Given the excellence in women's athletics today, it is almost inconceivable that there existed a time when women were denied the opportunity to pursue most team sports. The continued growth and acceptance of women's athletics is a testament to those early unyielding few and society's forward thinking. Long live the Big Red Machine!