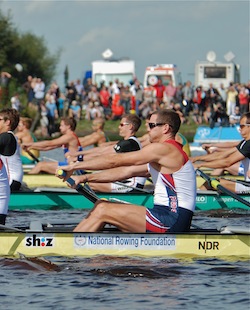 "Don't worry about an MBA, you're graduating from the Teti School of Business." Those were the words of teammate, mentor, leader in financial services, 3-time Olympian and multiple Rowing World Champion, but most importantly my friend, Jeff Klepacki.
Imagine an athlete and their teammates stepping in to the Olympic stadium. They stand confident, take a few deep breaths, and shake out their nerves. Thousands of people cheer while they are introduced, but their eyes never waiver from their goals, in our case, crossing the finish line first. When the gun goes off we're on the move, determined, never looking back. One goal in mind.
Now, how does this scenario apply to an everyday business situation?
The same techniques that athletes use to perform under pressure allow business leaders to excel in the workplace.
Most athletes can move into the business world; Rowers are designed to dominate it. The sport itself was cemented on the walls from every Fortune 500 company to the smallest of business– an eight rowing at sunrise with the word "TEAMWORK" at the bottom. A constant reminder.
National Team Rowers take it to an entirely different level. Most are highly educated from top universities around the world. They are already intrinsically motivated, competitive, and driven; trained to endure endless workloads, at all hours of the day, with monotonous repetition. They have the ability to put work in for a goal that is months and years away. There are no time outs, no do-overs, no subs, and certainly no shortcuts.
Then you place them all in a grinder with the mission to "Make sure you beat the other person today, BUT they may be your teammate tomorrow."
Grit. Maybe you were a lucky one who was born with it. Or maybe by rowing until your hands bled, legs cramped, the sun beat you down, and the lactic acid seared you to the soul, you earned it. It's grit that makes people successful in life and in business and if you rowed, it's in you.