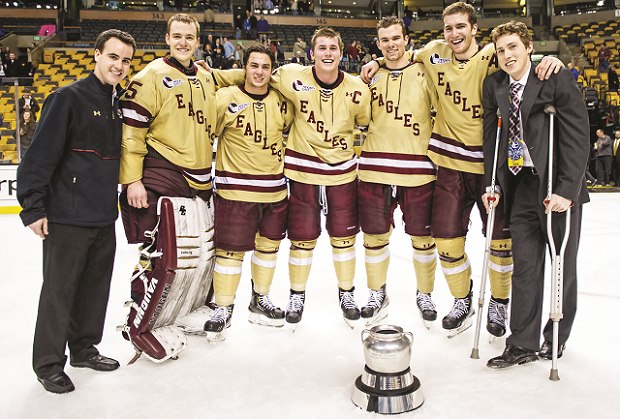 Why College Sports Should be Cherished.
It's 12:40pm on a Saturday in Finland. I'm on a team bus traveling up the western coast from Pori to Vaasa; one small city to an even smaller city. The sun is already setting and most of my teammates have found a comfortable (ish) position to partake in one of hockey's most beloved routines: the pregame nap. The coaches sit in the front of the bus discussing tonight's game and the fact that our trainers forgot to bring coffee on the bus. Or at least that is what I think they are talking about—I have yet to master the Finnish language. For all I know, they could be discussing the weather. Which I notice is really nice today as I watch the colorful trees and hills pass us on this scenic road. Reminds me of fall in Chestnut Hill and once again, I find myself reminiscing on my college career and the time I spent at Boston College. Instead of taking a nap.
It's hard not to be nostalgic when thinking about those coveted four years. But what exactly is it that always gets me thinking about my time there? There's something about college hockey that is so distinctly different than the hockey I am playing now. There are the obvious differences like talent level and money. But there is something bigger. A unique bond with your teammates and classmates that is nearly impossible to explain unless you have lived it—but let me try.
Don't get me wrong, I love being a professional hockey player; the routine of going to the rink everyday and trying to become a better player, while, of course, getting paid to do so. I truly cherish the connections and relationships I have made and will continue to make throughout my professional career. Not to mention all of the places that it has brought me (some more appealing than others). And, of course, having from April until August free to play golf. However, regardless of the team, the league, or the paycheck, there is a special part of one's hockey career that only lives within a fleeting four years.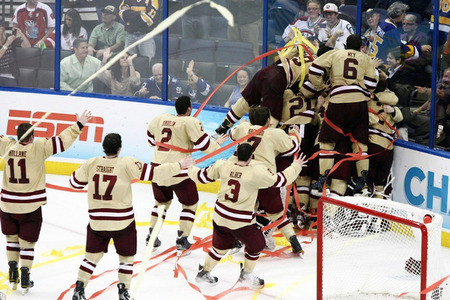 For as long as I can remember, I wanted to play hockey at Boston College.
I am not sure where my early affinity came from— but I knew I wanted to be an Eagle. When I arrived on the Heights in the Fall of 2009, I quickly learned (and reaffirmed) what made that place so special. It wasn't just the Mod's or Mary Anne's or Bapst Library (every college has its equals). What made it incredible for me, was the people. The staff that works tirelessly out of a commitment to the development of not only students and athletes, but the development of character. These faculty members —the professors, coaches, and trainers— are not in search of notoriety, fame, or massive amounts of wealth. They have no interest in being on the front page of the Boston Globe. But, they had an interest in me and my teammates; not as assets or future hockey stars, but as people. This is something that is truly synonymous with college athletics at BC and many other colleges around the country; the dedication to raising good people first, and good athletes second.
And then there were my teammates; the majority of whom will remain my lifelong friends.
We did not worry about trades, getting called up (to the NHL), or getting sent down (to only God knows where). There was a feeling of "we are in this together" and a palpable sense of security. We lived together, ate together, studied together, partied together, and won together. All twenty-five of us. Everyday. For four years. We know each other's families and extended families and our parents vacation together (still). It became a lifestyle, and one that I grew fond of and accustomed to.
In my three years since turning pro, I have played in six different cities on two different continents. I've had more than 150 different teammates and called nine apartments home. I've been sent down, called up, or traded close to ten times. As much as I try to embrace this lifestyle, a part of me will always yearn for that secure "college feeling." Knowing your bag won't be packed when you show up to the rink. Not worrying that your job may be on the line, or that your line mate and closest friend may not be there tomorrow, or that this is how some of your teammates feed their families.
College sports represent athletics in the most pure and natural form; kids playing for the love of the game.
There are no endorsements or lucrative multi-year contracts (at least not yet—I see you Ed O'Bannon). They play for their University, for pride, their fellow students, and for their teammates.
There is something to be said for every step in the process – something beautiful about each part of one's career. With that said, the pros will always be there. Same with the endorsements, cars, clothes, and fame. College though, well, you can't get those four years back.