Do you, as a coach, really know how your players are feeling? Do your players really understand the factors that affect their performance?
They tell you they are fine, but they aren't playing as well you know they can. So how can you be sure?
DRIVN users have found the questionnaire feature to be a very valuable tool in obtaining the information needed to help athletes achieve a consistently high level of performance.
"We ask our players to fill out a wellness questionnaire every day asking about sleep, stress level at school and in their social life, fatigue and soreness," said Craig Van Wielligh, Director to Performance at Global Premier Soccer, a youth soccer organization with clubs in 14 states.
"We use those elements to get an idea where players are. We measure and monitor their loads. We get to see at what level they are training, where they are and how things fluctuate over time."
Neil Macmillan, the head field hockey coach at Ohio University, found DRIVN enables him to be proactive with his players' overall fitness.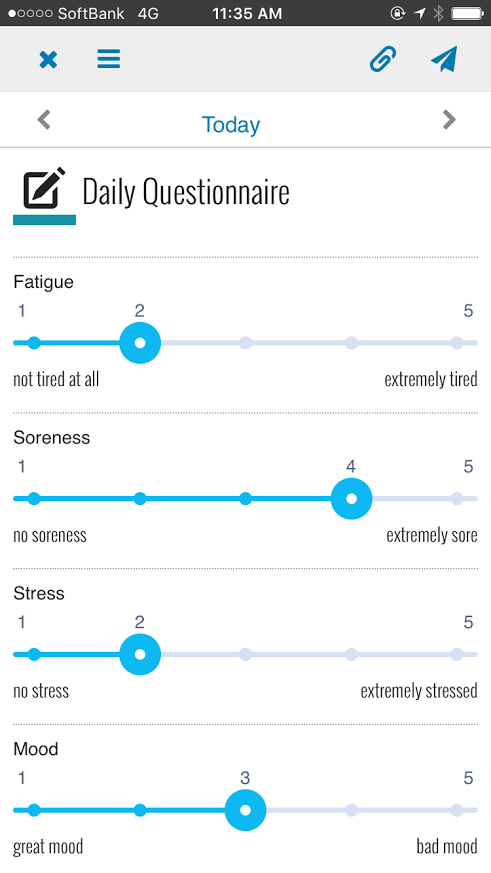 "I have really been able to help one or two players because I have been able to be aware of something," he said. "Players who are generally upbeat and happy have all of a sudden indicated that they are stressed, they're not sleeping, or something. I can go to them and talk to them about it, or maybe give them a day off, or set up a meeting with an academic advisor or something else. That usually would happen three or four days later. It's really allowed us to get out ahead of things that have happened with individuals. I think that is very beneficial.
"It allows us to see the situations before they develop," Macmillan adds. "To be able to see the trends really helps us be able to have a conversation prior to the point where an issue has already come up."
Both Von Wielligh and Macmillan said once the players see the value in an honest assessment of how they are feeling, they will readily participate in the process.
"I've found it to be valuable in sort of self-empowerment way," said Von Wielligh. "It educates them to what they need to be doing for themselves. There comes a point where they need to learn what they need to do and what to look for in terms of managing their load."
But is it a good idea to add a daily questionnaire to the plate of players who might already be feeling stressed by school and social obligations? The process isn't daunting. It so simple for the players and can be done by sliding a bar on their phones, where they are spending most of their time anyway.
"The way we presented it to the team was, 'We have this great tool we are investing in so that we can invest in you and you can invest in yourself,'" said Macmillan. "Once we told them the benefits of what we were seeing, they bought into it. Once it became a habit it was easy for them to use it. We've had very good participation."
Find out what else DRIVN can do for you and sign up for a free trial.
{{cta('d171881a-4684-44f3-a194-7cea8dd4fe74')}}